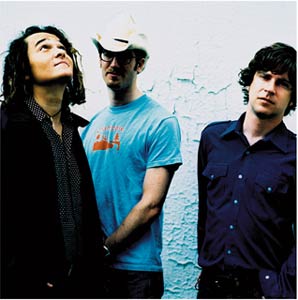 As if this week wasn't already chocked full of great music, I just found out today that Nada Surf has officially announced the release of their next album entitled lucky. The release date is set for February 5, 2008. The album is produced by the band and John Goodmanson(Death Cab For Cutie, Blonde Redhead, Sleater-Kinney) and feautures contributions from Ben Gibbard and Ed Harcourt. They also have made a free track available for download to give everyone an idea of what this album will sound like.
Nada Surf - See These Bones(from lucky)
If the whole album sounds like this I would be most pleased. The end of this song just kicks butt!
Here's the tracklist from the album:

Weightless
Whose Authority
Beautiful Beat
Here Goes Something
From Now On
I Like What You Say
Ice on the Wing
The Film Did Not Go 'Round
The Fox
Are You Lightning?
See These Bones
They are also on tour w/Sea Wolf as I mentioned a coupla days ago.
More Nada Surf --> website --> buy --> mp3